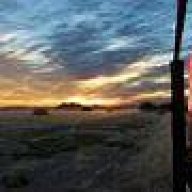 May 14, 2004
9,639
456
83
Going from a 7/8" shaft to a 5/8" shaft in a 2.0 shock would increase your effective piston area from 2.5SQ" to 2.8SQ". So about a 12% increase.

Now if you do something like the Walker shocks and put the resi outlet on the side of the shock, once you pass it you would see a 25% increase with a 7/8" shaft.

Edit: Since a 5/8" shaft is only about half the area of a 7/8" shaft, your spring force from the nitrogen will just about half.
Last edited: