2003 Ford Ranger Edge 3.0 V6 2WD
Decided to make a build thread of the ranger and hopefully gather some advice on the way. All right so this truck was my first truck bought for $5k from a college student. Didn't really know what he had and was kind of beat with the check engine light on, scratches all over, and not to mention how dirty it was. literally a layer of dirt that was sitting for awhile. But it was a project and I knew I was gonna change it for the better. The goal for the truck is to eventually get long travel installed. I got the truck when I was 16 and got a job right after, everything that has been to the truck has been out of my own pocket and a lot of the parts I got for it I got for a steal so that helps a lot. But as of now I'm 18 entering college for a mechanical engineering degree, and reached my way to a assistant manager role at a pizza place (Mad tips=More truck parts haha) but here we go.
Heres when we brought it home from fullerton, 100% stock.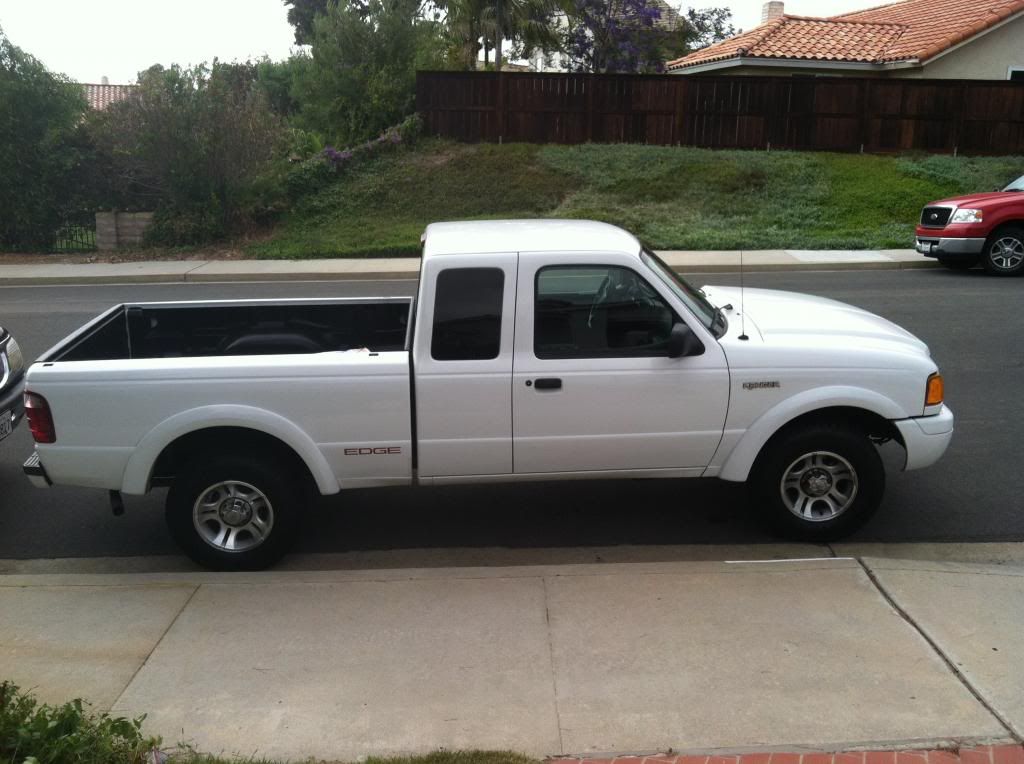 Brought it home, first thing that was done was a good detail. It needed it. Had no radiator coolant so we filled it up before we left, oil needed to be changed, and tires were bald. Basically did a full tune up, new air filter, oil change, spark plugs, etc... I still had some money saved up from selling a lot of my rc stuff from when I used to race, so I went ahead and ordered a set of 4 Ultra Type 164's in matte black, and a 3-4" spindle lift. Those sat in the garage for awhile til I could afford new tires. I was contemplating between 33's or 32's basically the same price at discount tire, but I played it safe with 32's. But here was the final result.
Completely changed how the truck drove haha, I was happy for awhile. But after that I was broke for awhile and that's when all the small mods started. I plastidipped the badges, replaced the headlights with some clear ones, and got the 06+ tail lights. Also had to change out the driver window regulator, literally had to bang on the door to get it go up too haha. Also bought some black headlights to see which ones I liked better, but the clear ones won. So I sold the black ones. but heres a pic of what it looks like with black headlights.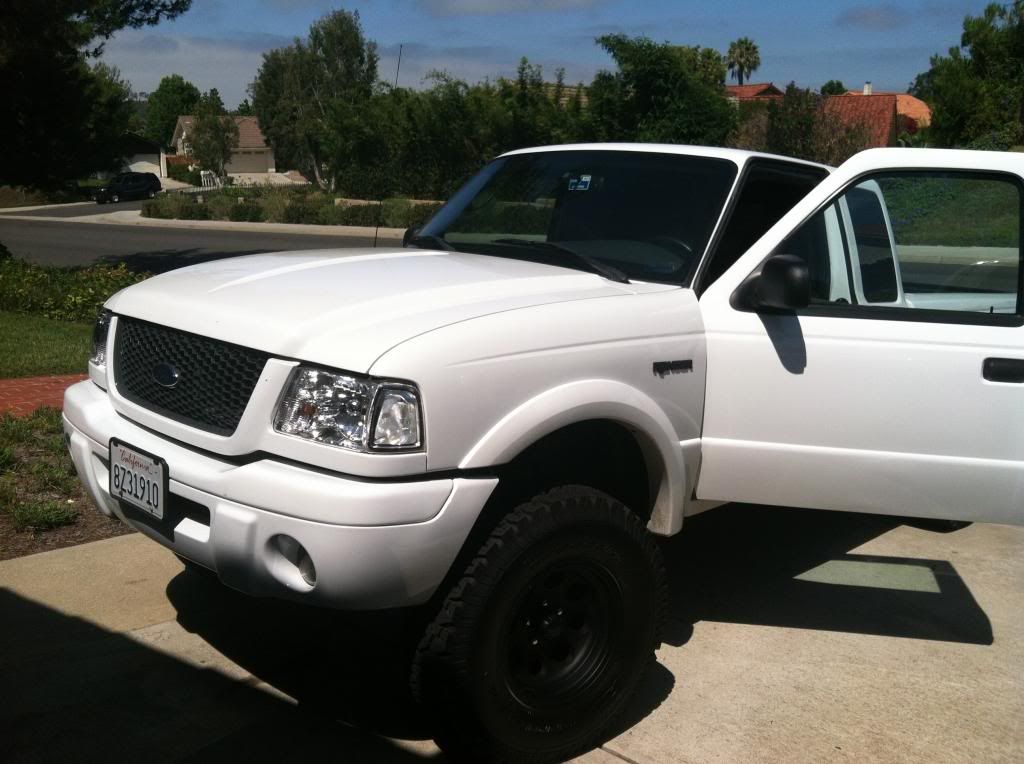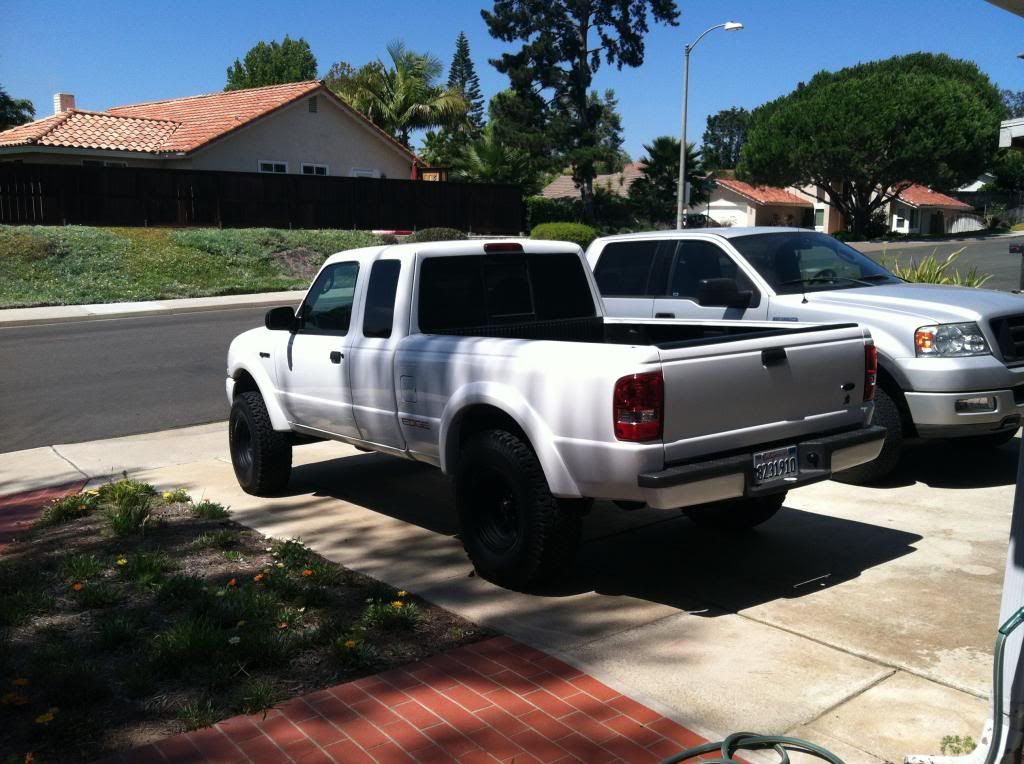 Next up was changing up the head unit, went with a pioneer headunit and installed it myself. Went smooth, one of my favorite things I did to the truck.
Camshaft synchronizer was making weird noises so we decided to go ahead and replace that, didn't end to well hahaha. Had to get it towed because we fucked up the timing and it wouldn't even drive right so fuck it, AAA can tow it to my mechanic.
Next I converted all the bulbs to LED in the whole truck and installed a HID Kit.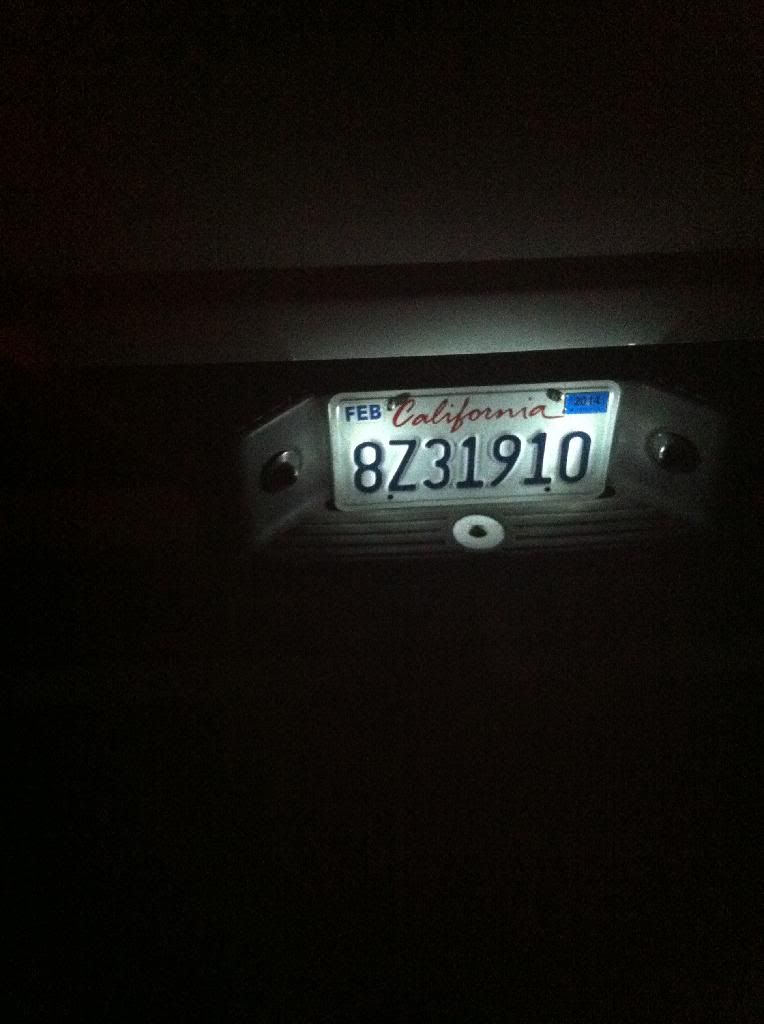 Exhaust pipe looked ugly, so decided to get a spintech muffler. Got it all welded in there with a downpipes, sounds bitchen.
Bought a 3' FireStik and a Uniden CB Radio for when I go offloading with my other buddies.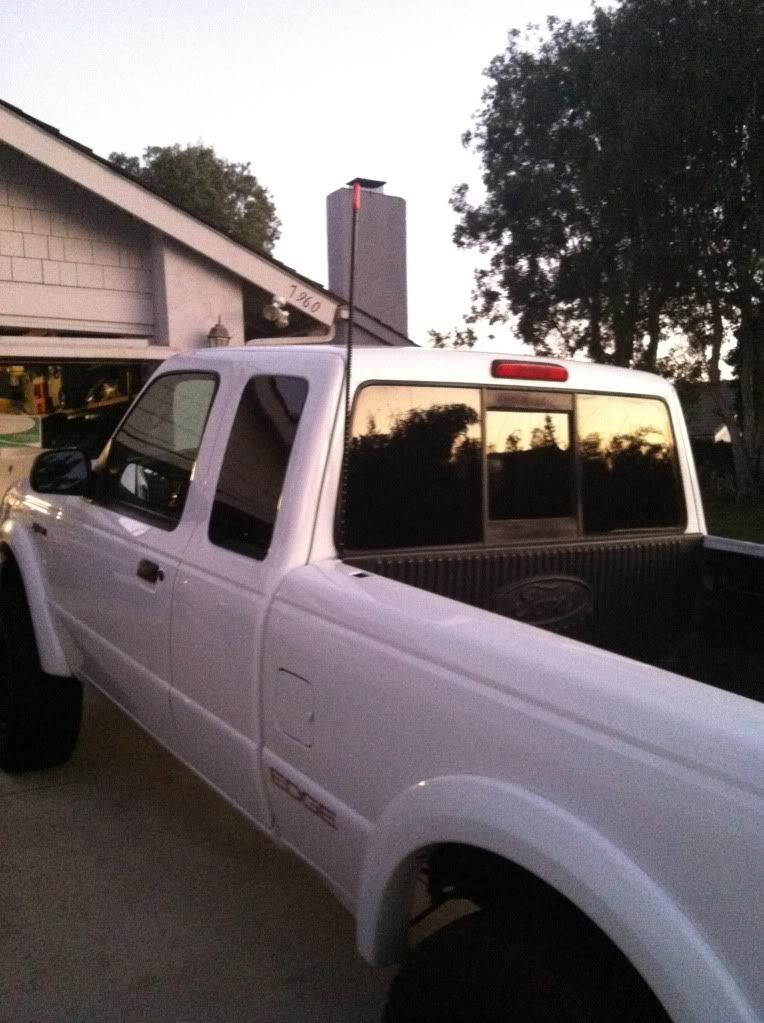 Went on a little off road trail by where I live with a few buddies
Got tired of the navy blue grill, so painted it satin black, turned out well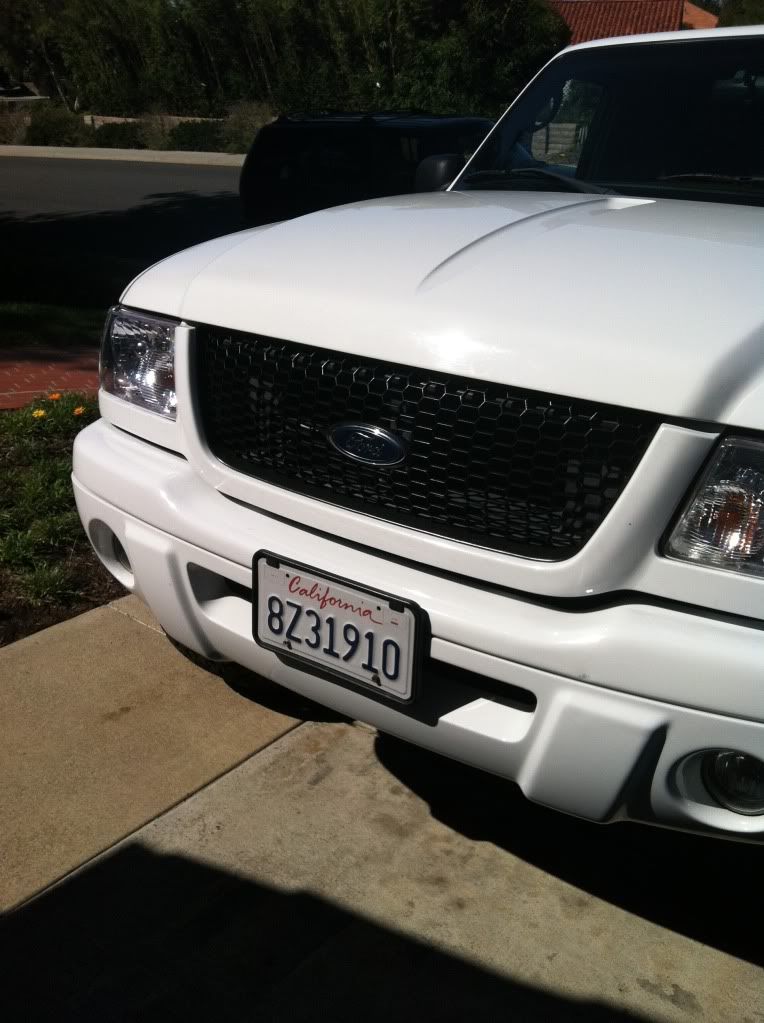 Then out a whim it was black friday and I saw fiberwerx had a 25% sale on fiberglass so I put an order in for fenders and bedsides. Stored them in the garage for awhile till I was ready to put them on. Drove down to el cajon to pick them up as well.
Next up was the tint on the front windows, matched the back with 15%
Then picked up a ford 8.8 with 4.56 gears and limited slip for $200 on here, drove to escondido and got that. Stored that in the garage for awhile too.
Then saved enough to get my front bumper made and fiberglass installed. Not a fan of the fitment of the fiberwerx glass and quality. Should've waited for the glassworks but I have plans of switching over this fall. So I'm not worried right now, but heres some pics
Sold the 32's for some 33's, went with BFG again. Also picked up 3 Red Ring Hid's from my buddy. Filled the fiberglass a little better.
Went offroading at a place called Deer Springs out in Escondido before work haha and got a little bit of air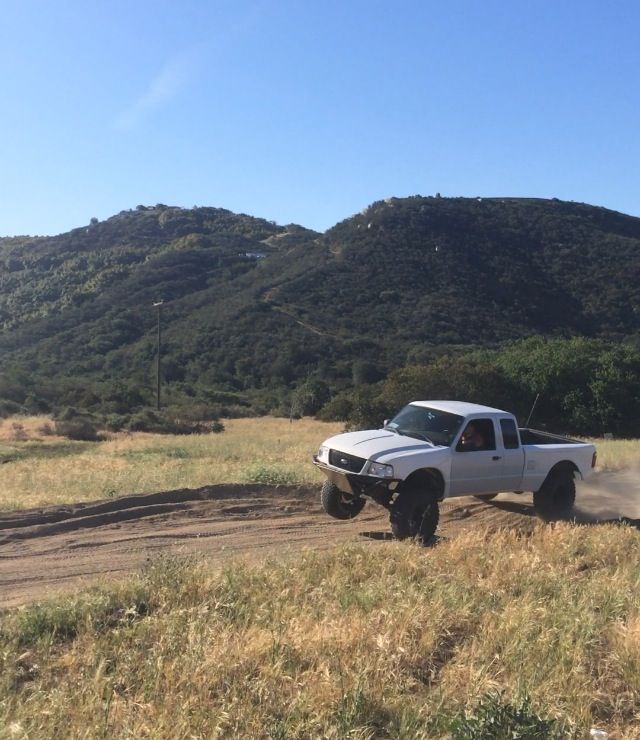 Went another day and I ran out of talent, got stuck in a ditch for 10 hours haha, had to get my buddy with a jeep to pull me out at 10pm.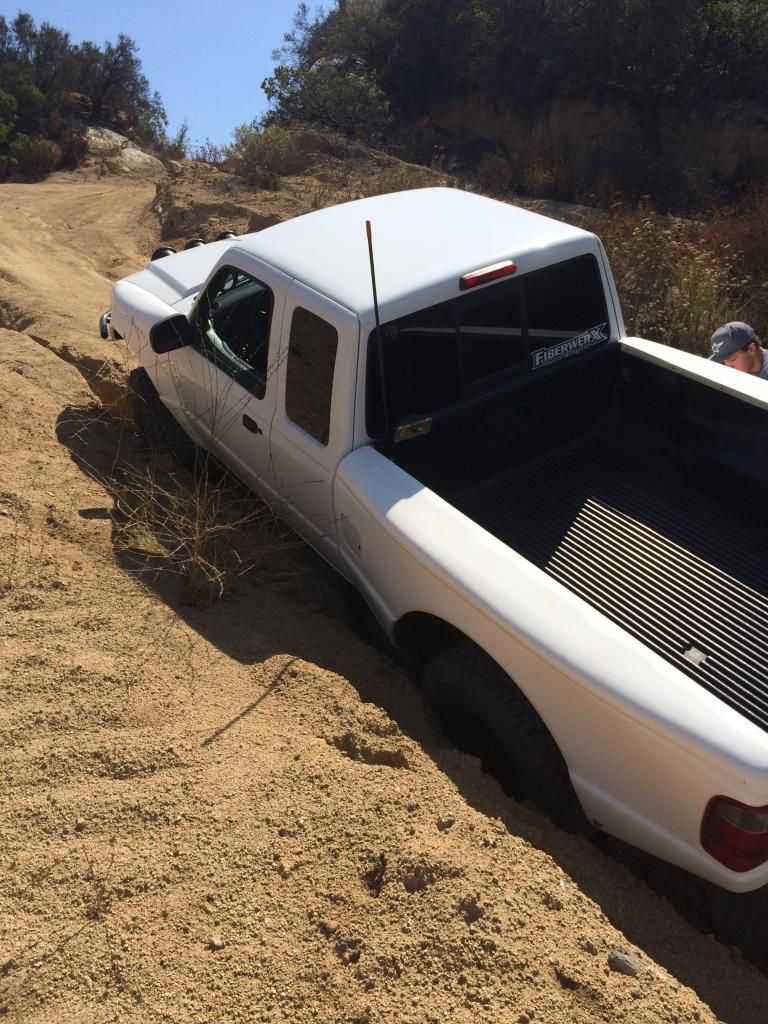 v
Finally got the new axle installed, did it myself in my garage with a few buddies, no issues at all but getting the brake line on was a bitch.
Then got a K30 Whip and some 1.5" wheel spacers to fill out the fiberglass temporarily
Another trip out to deer springs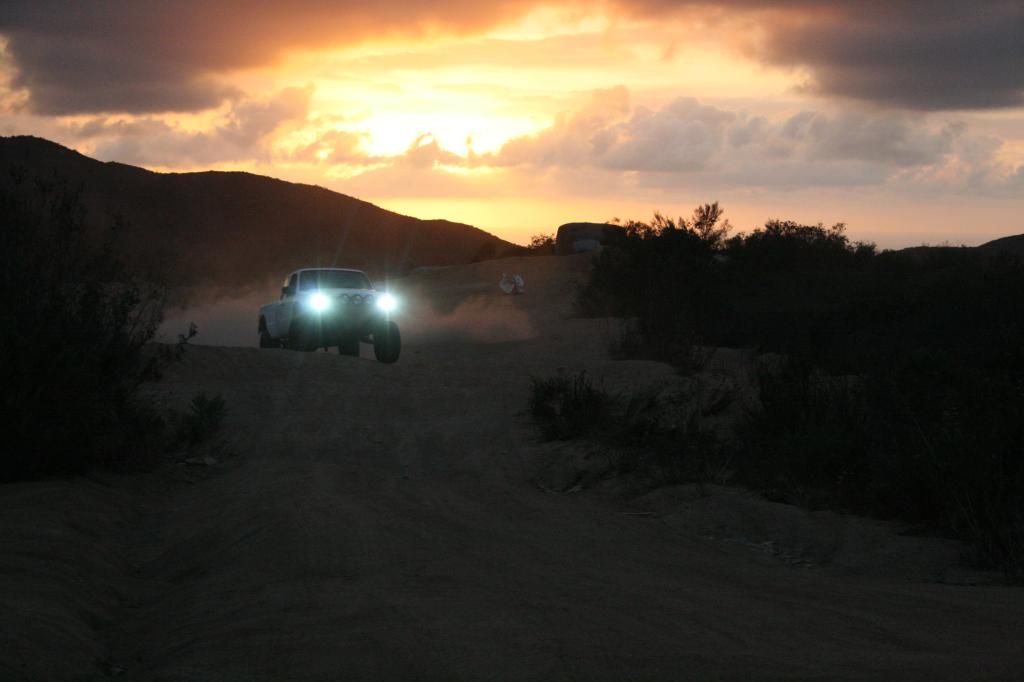 Then picked up some BFG baja's in 35's because race truck. Got them right before My trip to ocotillo and they did great.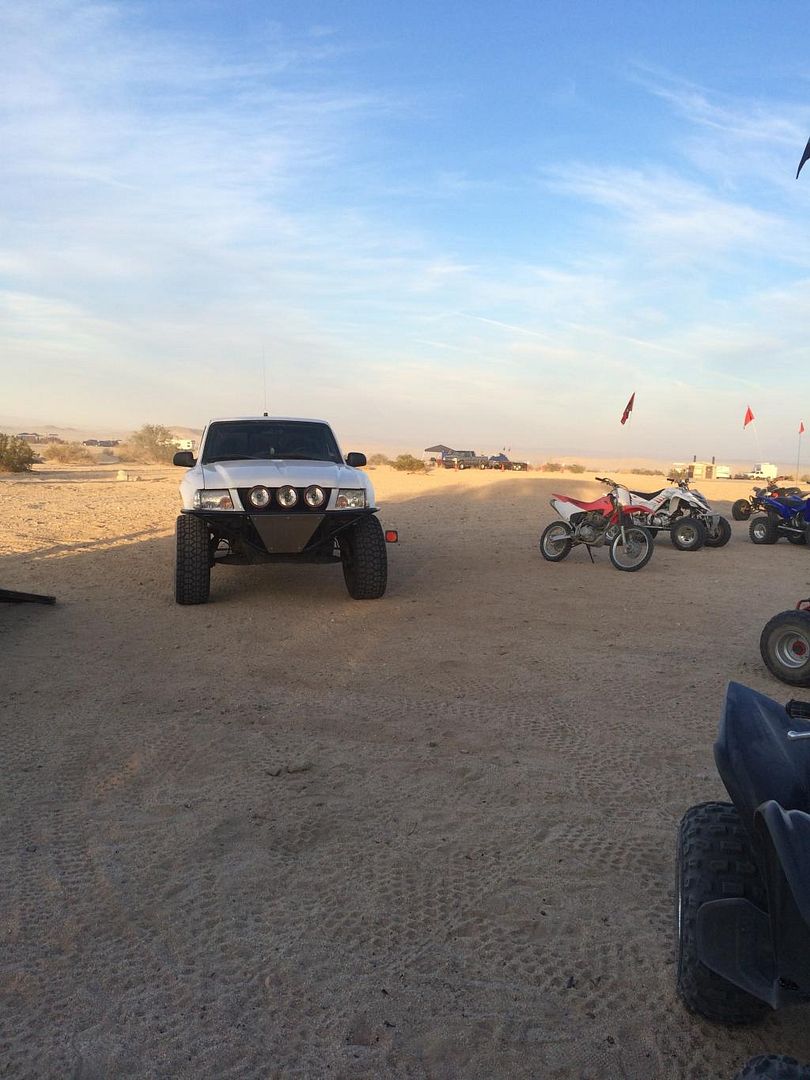 Then was able to find some Method Double standards with the machined ring Brand new for an insane price I couldn't pass up, so I drove to menifee and picked them up. Was Super Stoked!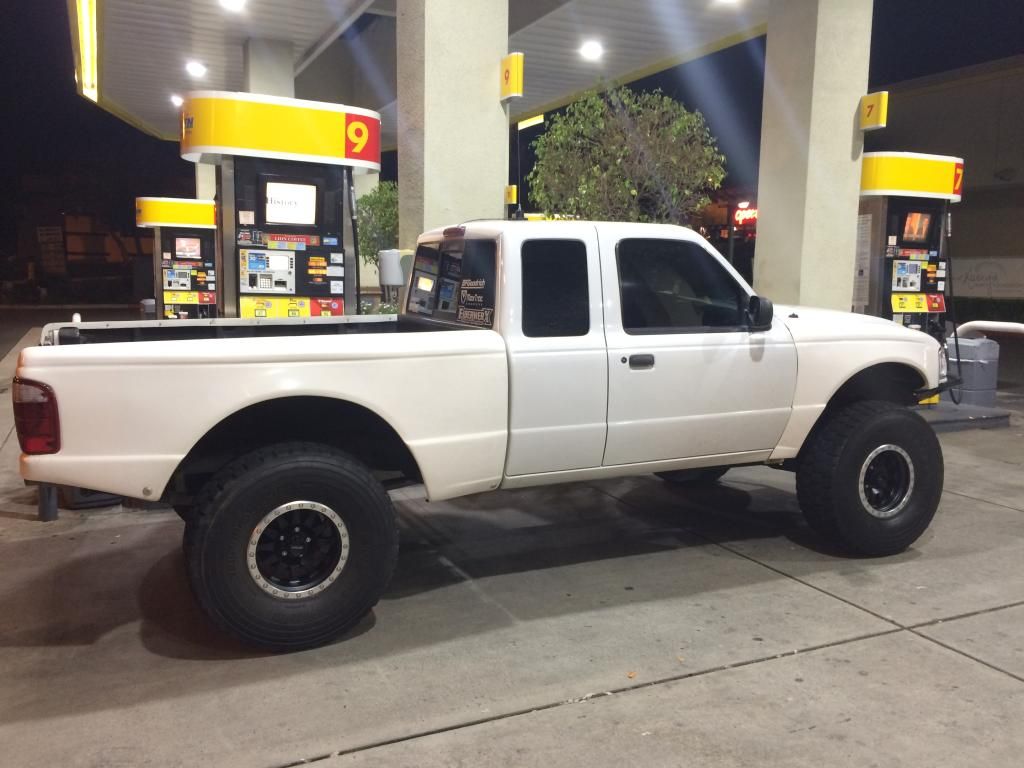 Picked up some Camburg UCA's on here for a good price as well, have those stockpiled for now. Also picked up a big Alpine 12" type r, hits hard af.
Made another trip out to ocotillo with a bunch of buddies, a trip ill never forget, pushed it hard and the ranger was held up together at the end.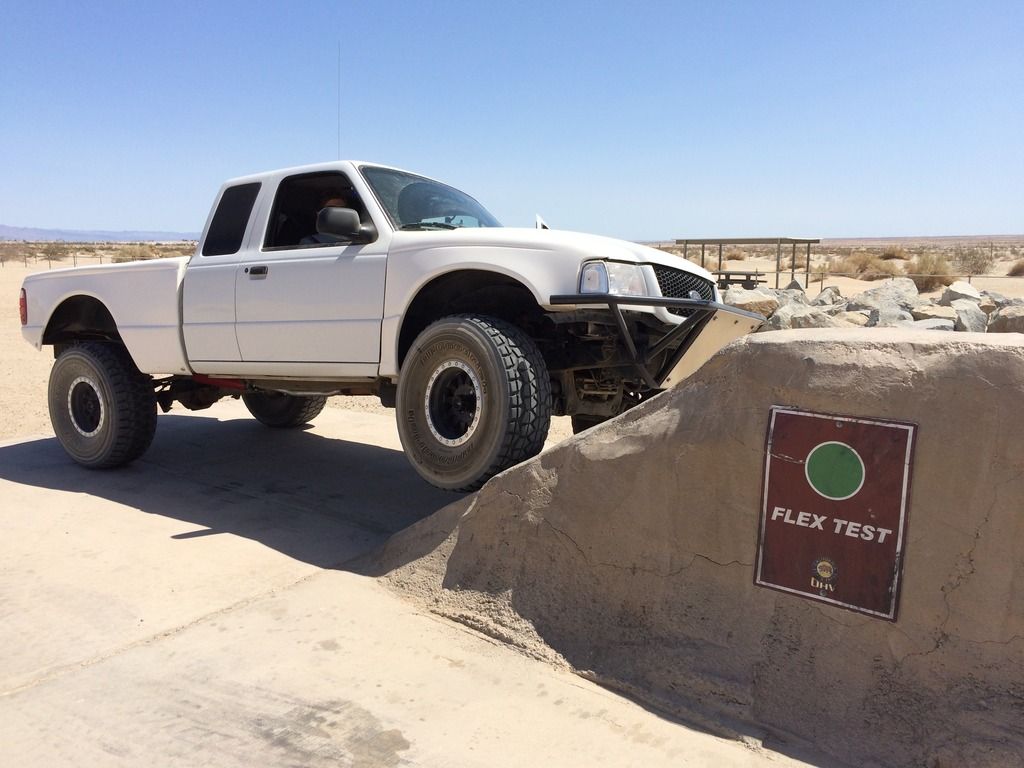 And here is a pic of it all cleaned up afterwards
Baja's were cool and all, but damn they were loud and were not a good DD tire haha, so I sold them and picked up some new 35's and went with General Grabbers. Got them for $570 with discounts and rebate.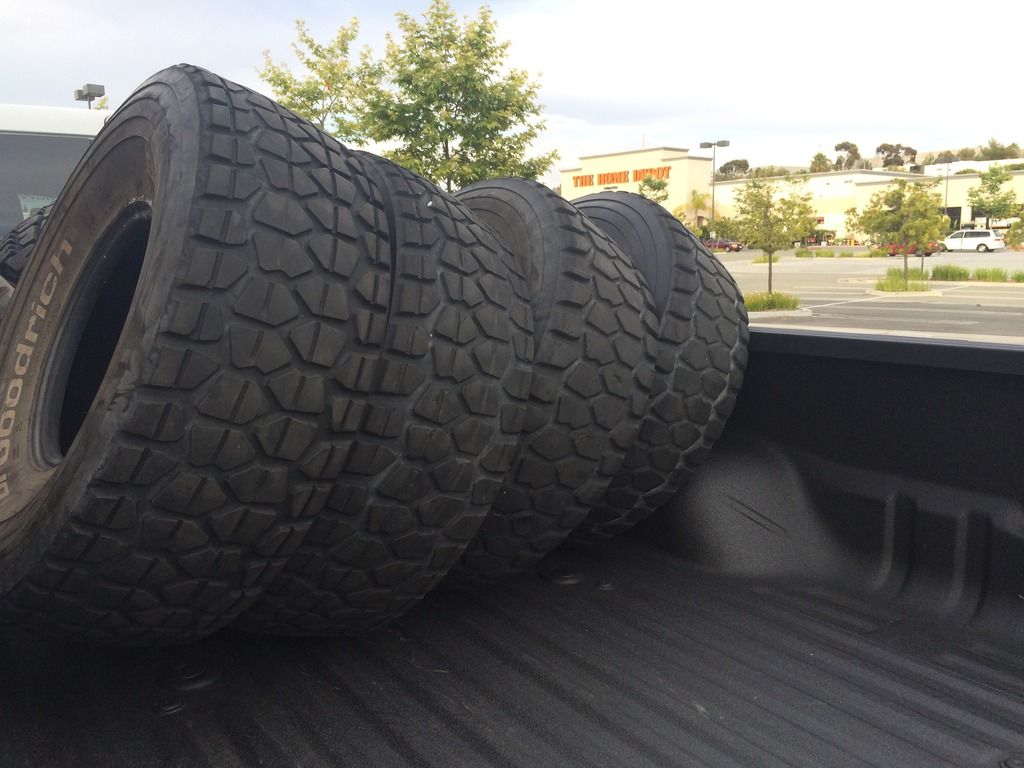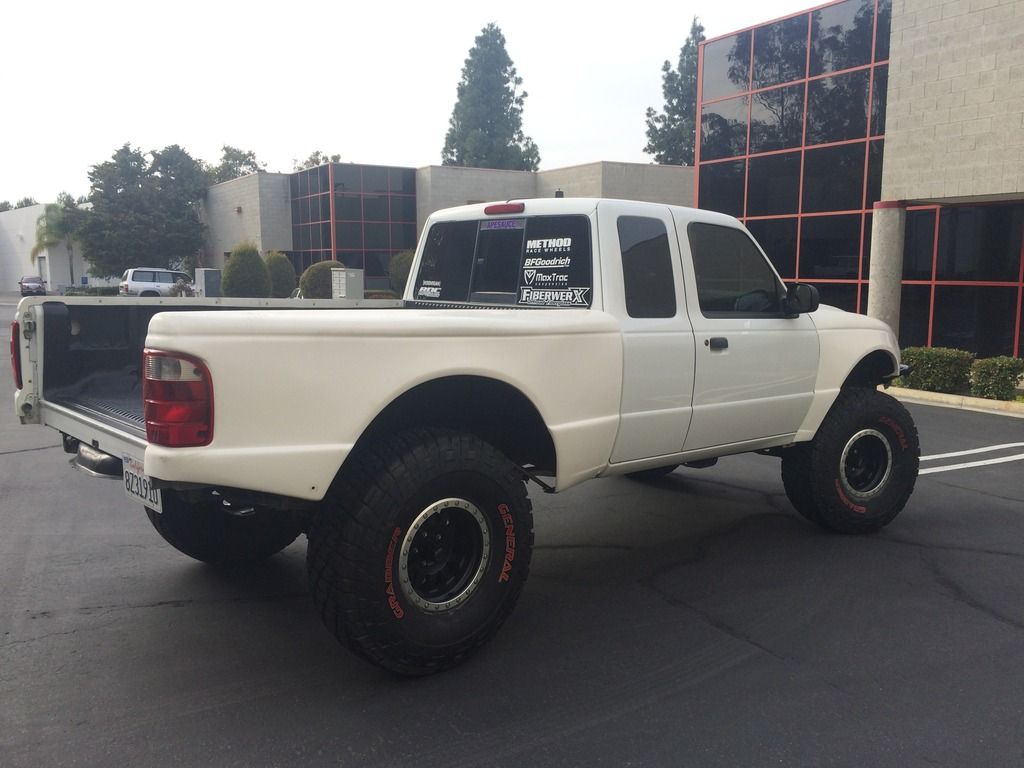 Then one day I was driving on the freeway and made it work and when I got out of the truck it smelled like gear oil. Looked under the truck and there was oil everywhere, I blew the pinion bearing seal and the bearing itself. Didn't want to deal with it so sold it and decided to upgrade, cause thats what you do when parts break haha. Picked up a Expo axle with 4.56 gears and detroit locker. Also had disc brakes. Changed the oil and swapped it out in my garage. Man did the disc brakes in the rear made a huge difference. So far no issues and one of my best purchases for the ranger. When the ranger was down, I found a ad on craigslist where someone wanted to trade some stock seats for a pair of master craft seats with the sliders. No brainer right? Drove down traded them and bolted them up, and picked a pair of master craft 5pts as well. And yeah I know running the 5pts without a cage is dangerous, I only use the lap belt right now. and its an investment for the future.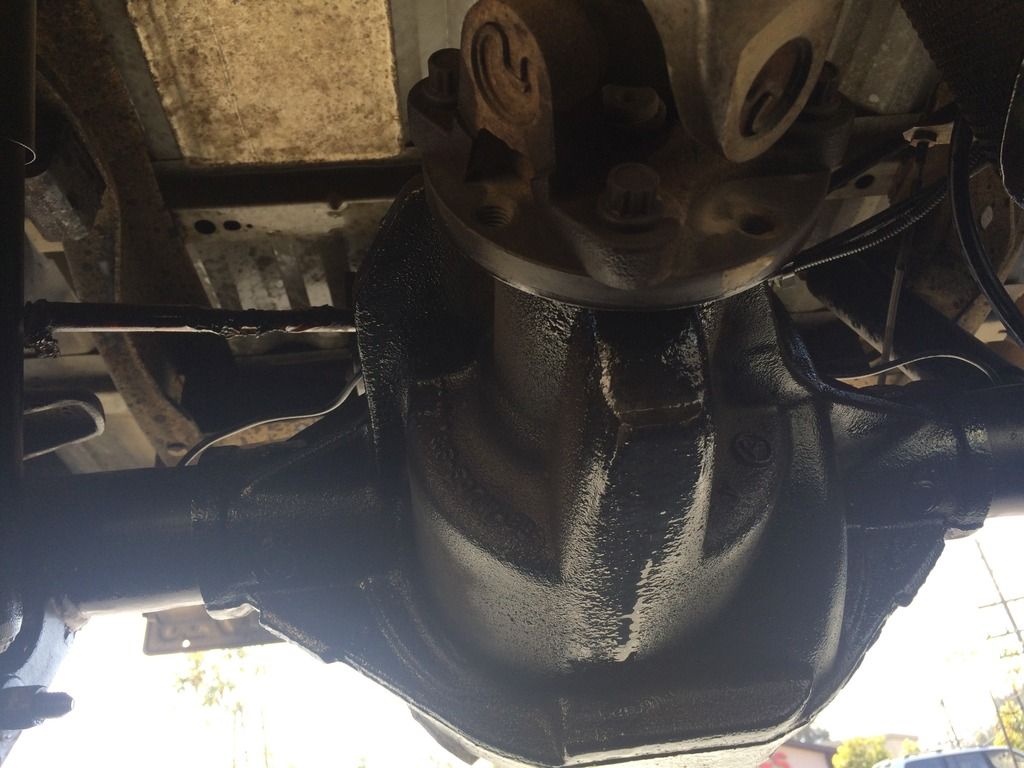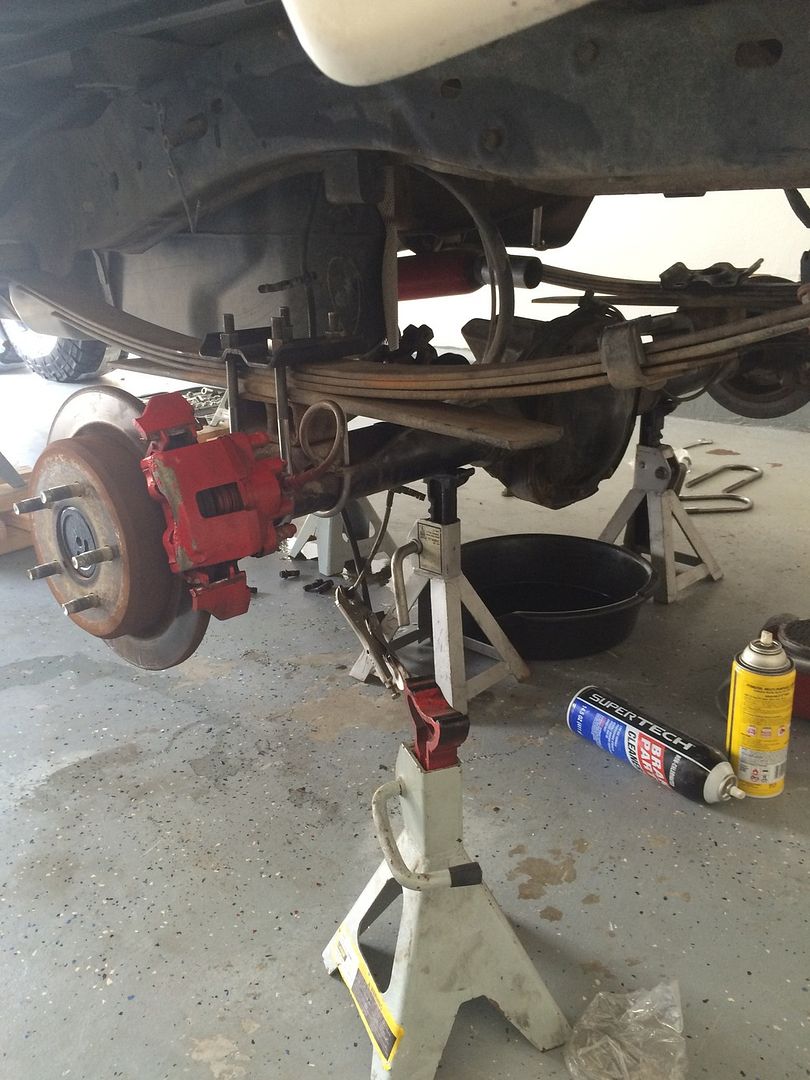 Also got the windshield strip done for $35, so I said what the hell and got it done.
And I was tired of the front shocks sucking, so I bought a pair of Fox Oem replacements for now.
But as of right now this is how she looks, college is starting here in a few months and I just had to buy a ton of shit for school. But It'll just slow down the progression of the build. But hopefully I can order the spindles from BTF here soon, The plan for the front is to the Camburg Upper arms, with the fox shocks, and the BTF Spindles with the Dana 35 snout. I already have the brake lines, and limit straps as well. Last piece is the spindle. It'll be an investment for the future thats for sure with the long travel kit.